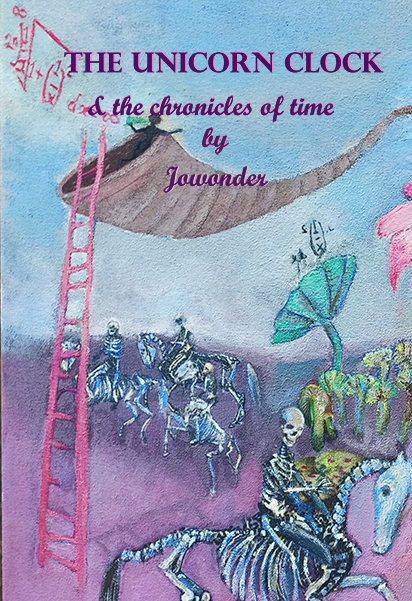 The Unicorn Clock and the Chronicles of Time, an illustrated novel by Jowonder.
' An offbeat novel with 66 yellow and black illustrations, compared to the psychedelic worlds of Jeff Noon. '
' When Ayla finds that all the horses have been stolen and changed into unicorns, she must rescue them before they bit by bit turn clockwork.'
A huge clockwork man is built for the giant Dusya to marry, so that they can do away with the costly unicorn clock, she will only have to look him in the (clock)-face to know the time. But Dusya is refusing to marry unless she has a clock-wise spindle spun wedding dress which she hopes will make her wise.
The main protagonist, Ayla goes on a quest to save the horses turned unicorns taking the reader into a parallel world of giants and unicorns, and with her Dum-dum she can make wishes and communicate between worlds.
Jo's own stories, reminiscent of the oral traditions are delivered in a unique style, addressing forces beyond the visible. Set in the realm of magic realism, she marries everything that we used to love about the charm of Victorian children's literature with darker more mature themes of a digital age.
Her narrative literature has been described as echoing great writers – Jeanette Winterson and Angela Carter- by award winning writer Peter Devonald, and Dame Marina Warner commended her fairy tales for their subversive use of narrative in her book; 'From the Beast to Blonde.' Her poetry and prose have been published in The International Times [2016] and Culture Matters [2019]
Her performance work has always challenged traditional literary forms, with a unique combination of live performance, technology, nonsense, and animation. (See media links)