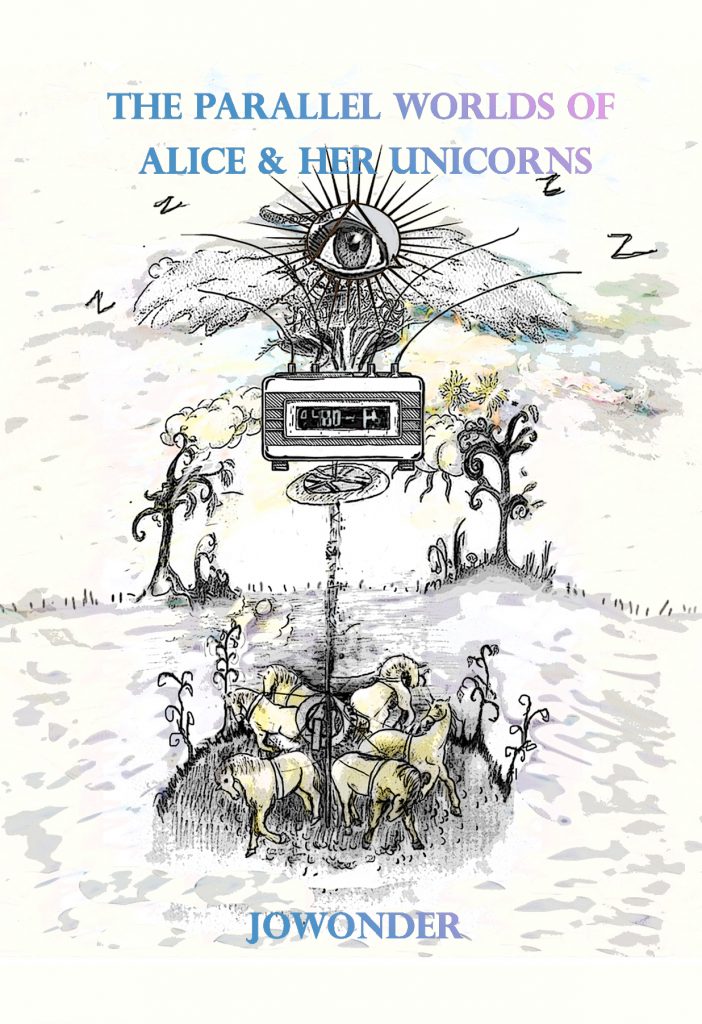 The Parallel Worlds of Alice and her Unicorns, an illustrated novel by Jowonder.
' An offbeat novel with 66 yellow and black illustrations, compared to the psychedelic world of Jeff Noon. '
A giant clockwork man is built for a Diedre to marry so that they can do away with the unicorn clock, she will only have to look him in the face to know the right time. But Diedre is refusing to marry unless she has a clock-wise spindle spun wedding dress to make her wise.
Alice goes on a quest to find the clock-wise dress, to help Diedre and to save the horses turned unicorns at the unicorn clock. This quest takes the reader into a parallel world with fanciful creatures and a Dum-dum, a beetle able to grant wishes and communicate between worlds.
Jo's own stories, reminiscent of the oral traditions are delivered in a unique style, addressing forces beyond the visible. Set in the realm of magic realism, she marries the charm of Victorian children's literature with darker cyberpunk themes of a digital age.
Her narrative literature has been described as echoing great writers – Jeanette Winterson and Angela Carter- by award winning writer Peter Devonald, and Dame Marina Warner commended her fairy tales for their subversive use of narrative in her book From the Beast to Blonde. Her poetry and prose have been published in The International Times [2016] and Culture Matters [2019]
Her performance work has always challenged traditional literary forms, with a unique combination of live performance, technology, animation and music.